Think Small. One of the greatest ad campaigns ever created. But forget cars, I'm talking about small agencies. I know what I would be thinking as a shiny new ad grad reading this, but hear me out fledgeling creatives.
When you embark on your journey into the advertising industry, you set your sights on the sprawling creative departments of AMV or adam&eve hoping to make the next Guinness ad or John Lewis Christmas spot. Now, I'm not saying that won't happen for you, but the harsh truth is that it's unlikely. Welcome to the ad industry.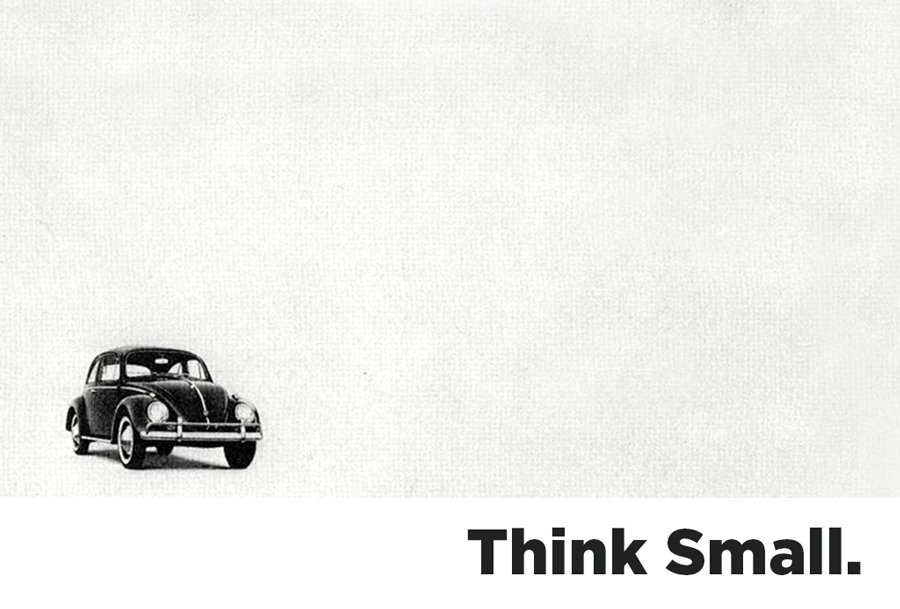 It's easy to be cynical and think that you need to be in a big agency to get good work out, and I am sure that helps. But there are plenty of smaller agencies doing some of the best work out there. Uncommon and their Ovo Energy campaign, Don't Panic with their Save The Children work and The Gate London and their piece with Gay Times (well, I'd be silly if I didn't throw some of our work in there).
It may not be emblazoned across ad blog front pages, it may pick up less metal at fancy award shows, but good work is good work.
Oh, and here's what else I think you get from thinking small….
Less Competition
On a crude level, there are fewer teams to compete with when working on briefs (and fewer people watching you when you sneak the good briefs from other people's desks).
I'm no mathematician, but I'd fancy my chances against four teams instead of 40. It also means you're less likely to be a social campaign extension plugin for senior creatives who can't be bothered doing it. I've been there, it's no fun (although now I'm on the other side of that fence, maybe I'll readdress).
A Boundless Attitude
There is a scrappy attitude to smaller agencies. It's one you just won't get elsewhere. Here at The Gate London, we refer to it as Boundlessness. It's that extra mile you walk to make sure your work is shouting loud enough to be heard. The world doesn't pay attention when the client is smaller. And the budget starts off smaller too, unless the work speaks for itself and demands attention. There's something to prove – and everyone in the agency is working together to make sure that you do.
Dirty Hands
If you are going to a smaller agency you better be prepared to roll up your sleeves and get stuck in. You won't be a social media extension plugin for the senior teams, you'll be thrown in the deep end with hands-on experience.
You'll have access to clients and take a lead on roles before you think you are ready, but you'll have a team pushing you to make sure you succeed – or learn from the mistakes if you do make them. That's a good thing, trust me. It pushes you. It teaches you to self-edit and ultimately, work harder. Within a year or two you'll be a stronger creative and have a stronger drive than your peers.
So, don't get disheartened if you can't get your foot in a big agency. See the benefit in thinking small. Knuckle down, work hard, and make sh*t happen. And hey, if Vicki Maguire or David Droga do come knocking after all, answer the door and tell them I sent you.
Rickie Marsden is copywriter at The Gate London.